Hawaiian plant could fight TB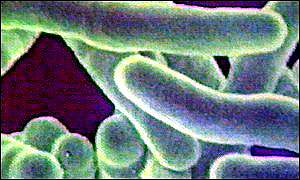 Tuberculosis bacteria: vulnerable to traditional cure
By the BBC's John Duce
Scientists believe they have found a significant new lead in the fight against one of the world's biggest killers, tuberculosis.
They say that extracts from a plant used as a folk remedy in various parts of the world kill TB bacteria and could be the basis of a new drug.
About two million people a year die from tuberculosis and researchers say new ways of tackling the disease are urgently needed as drug-resistant strains of the bacteria develop.
A team headed by Jonel Saludes, a researcher formerly based at the University of Santo Tomas in Manila in the Philippines, has been studying a plant known as 'Noni' in Hawaii, or Morinda citrofolia, to give it its scientific name.
It is used in various places around the world as a folk remedy to fight numerous ailments and the researchers have been able to isolate chemical compounds which they say appear remarkably effective at killing TB bacteria under laboratory conditions.
Preliminary results
The scientists stress their research is at a very early stage and any potential side-effects on people are unknown, but they hope their findings will ultimately lead to the development of a new drug.
Tuberculosis is an airborne, infectious disease, in which bacteria infect the lungs and other areas of the body.
Medicines are available to fight TB, but drug-resistant strains of the bacteria are developing, hastening the need for alternate remedies.
Most people killed by tuberculosis live in South East Asia and sub-Saharan Africa, but the World Health Organisation (WHO) says new outbreaks have begun to occur in Eastern Europe after almost 40 years of steady falls in the number of infections.
The WHO says people with HIV are particularly at risk of dying from the disease because their immune systems are so weak.